Jacqueline Brooks and Gran Gesto Claim DC International Grand Prix Freestyle Championship Award
January-06-09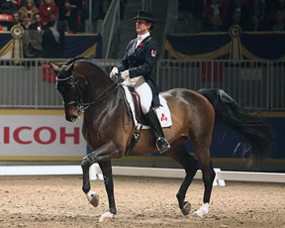 Canadian Olympian Jacqueline Brooks and Gran Gesto have been awarded the Dressage Canada International Grand Prix Freestyle Champion Award for 2008.
Brooks of Mount Albert, ON, and Gran Gesto, a 13-year-old Oldenburg gelding sired by Grannox and owned by Anne Welch and Brinc Ltd., won the Championship Award based on three FEI Grand Prix Freestyle scores and one Grand Prix score submitted to Dressage Canada between January 1 and November 30, 2008. All scores submitted—including the three freestyle scores and the technical Grand Prix score—must be achieved from a panel of five FEI Dressage judges for consideration.
Brooks submitted Freestyle scores of 71.800%, good for second place, from CDI Blainville Week I in Blainville, QC; 72.200%, and second place, from CDI Zada WEF Dressage Classic in Wellington, Fl; and 72.500%, for fourth place, from CDI-W Gold Coast Opener in Loxahatchee, FL, for an average Freestyle score of 72.167%. Brooks also submitted a Grand Prix score of 68.542% CDI Zada WEF Dressage Classic where the pair also finished in second.
Throughout the season, Brooks and Gran Gesto performed their well-known program featuring the music from the major motion picture Alexander expertly choreographed by Tamara Williamson of Kurboom. The pair was consistently rewarded for executing the difficult choreography, which features a twenty-meter circle with one tempi changes.
"I am very excited, and this award is a great honour," remarked Brooks. "We were the Canadian Freestyle Champion in 2007. It is very nice that we have won the award for a second year in a row, but this year in the new format."
For more information about the Dressage Canada awards program, please visit the dressage section of the Equine Canada website.